11000 Members: MeetFighters Is The Biggest!
11000 Members: MeetFighters Is The Biggest!
MeetFighters has passed 11000 members this week, which is a pretty number.
What will follow now will be some shameless "webmaster cock measuring and comparison", so if you are not into that sort of thing, you can just skip this post. I will be comparing membership numbers between us and our friendly rivals: GlobalFight and Bearhugger.net. Comparing the sizes of sites is not as straightforward as one might think because sometimes it isn't easy to distinguish between "active" members (in whatever sense of the word) from the rest. One could argue that a profile is only useful if there are past opponents associated, or has a good photo, or has been "verified" (as Grunts'n'Groans used to). These are not bad metrics, but they are difficult to check and verify.
More importantly, a user account that has gone unused for a long time is not so useful. For example, BearHugger.net will cheerfully list profiles that haven't logged in since 2010. These inactive profiles clutter search lists, members might waste time writing them messages and never hear back, in fact, these profiles are just dead weight. (This is why MeetFighters marks profiles that haven't logged in in two weeks with an hourglass icon.)
So in quantifying the "effective membership" of a site, I came up with the following metric: A profile is active if it was used within the past 30 days. There could be better metrics, but this one is easy to work with and get some real numbers.
GlobalFight numbers
GlobalFight, at a quick glance, has 12,000 members (as reported by "Search Newest Profiles" with the search criteria set to 30 years) or 13,500 members, as reported MegaSearch without any search criteria. The discrepancy is due to how MegaSearch will return duplicates, like so: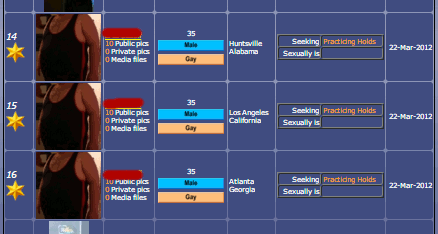 What this means is that figures returned by MegaSearch will be off by about 9% on average.
GlobalFight will not tell you when a profile was last used if it is beyond the 30-day limit (part of the reason I chose 30 days as the limit for this post). However, you can instruct MegaSearch to give you the full list (with duplicates) sorted by last login. If you do this, and scroll down the lost long enough, you will find the first profile that hasn't logged in in 30 days will be around the 6,800 mark. Adjust this with the average duplicate rate and you arrive at the effective membership size of 6,200.
Bearhugger.net
Bearhugger.net profile list contains an impressive 8400 profiles, and there are no duplicates there either. However, if you sort them by "login" and start scroll down, you will find the first "inactive" profile at around the 1900 mark.
MeetFighters
We are very open about membership sizes and use no obfuscating techniques. (Even back when we had a hundred members, we proudly stated so.) Of our 11,000 members, 10,200 are "active". These metrics are very close because members who do not log in for a while are automatically suspended by the system so they don't clutter search results and such.
I also must point out that MeetFighters makes a very conscious effort to keep membership low. We do not advertise anywhere, preferring word-of-mouth to adwords. We also routinely delete profiles that are duplicates; in fact one person operating multiple profiles is against our Terms of Service.
Summary
| | | |
| --- | --- | --- |
| Site | Membership | Comment |
| MeetFighters (gross membership) | 11,000 | |
| MeetFighters (effective membership) | 10,200 | (9% inactive) |
| GlobalFight (gross membership) | 12,300 | |
| GlobalFight (effective membership) | 6,200 | (50% inactive) |
| Bearhugger (gross membership) | 8,400 | |
| Bearhugger (effective membership) | 1,900 | (77% inactive) |
Now it is worth mentioning that these are just numbers and they do not reflect the usefulness of each site for any particular purpose. I'm sure one could come up with a metric that would make Bearhugger or Globalfight the number one.
However, the large margin between MeetFighters and the second place is a good indication that MeetFighters is now the Biggest Wrestling Personals Site on the Net. You'll have to excuse me if I feel a certain amount of pride and sense of accomplishment at that. It's not bad for a site run by volunteers in their spare times. :)
In other news...
Work is ongoing on the new Message Center. I have also added some small new features to other parts the site too, you might spot them with a keen eye.
That's it for this week! Admin out.
Translate